I am linking up with java @ Never growing old, i am adding her instructions:
SUNDAY, DECEMBER 26, 2010
Meet Me on Monday!!
Welcome to the 28th edition of
"Meet Me On Monday!"
Blogging is a funny thing...we tell our most intimate thoughts for all to read and yet most of the time I find myself sitting and wondering, "who is this person!?" I know them...but yet I
don't
know them! I want to know who the person is behind all those words so I thought of a great way for all of us to "meet" each other!
Every Sunday I will post five
get to know you
questions that you can copy and paste into your own Monday post and we can all learn a little more about each and every one of us!!
"Its a great way to to meet new friends and for others to get to know me better....one Monday at a time!!!"
....as quoted by
the Chacogirl!!
I will make this SIMPLE and FUN!!!
I will add a linky so we can follow who participates and get to know them better!! Be sure to link the POST and not just your whole blog!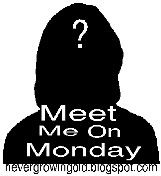 Questions:
1. What are your New Year's Eve plans?
2. How tall are you?
3. What is your favorite pudding flavor?
4. What room of the house do you blog the most in?
5. What is your best physical feature?
-----
My Answers:
1. We will be joining friends for a night of dancing at the Ramada Hotel in Denver. The night will include meeting for a light dinner then the dancing starts at eight in two ballrooms. Denver hosts an annual fireworks display at nine, and midnight, which can be seen from the hotel. The hotel will provide a buffet dinner at ten, followed by champagne toasts at midnight and more dancing. New Years morning there will be a complimentary, full service, breakfast then we will head home for a nap!
2. I thought I was 5'3 until I participated in a health fair at work and I measured in at 5'2. Soon, I will be the shortest one in the family!
My oldest daughter
My three younger daughters and my daughter-in-law ( the tallest one)
The grand kiddo's..they will soon be taller than me!
3. I like chocolate pudding the best but it has to have a dollop of whipped cream!
4. I blog in the office. When we bought our new computer I decided on a desk top (to save $$) and added an iPad to use when Hubby hogs uses the computer.
I would love my office to look like this!
5. This is a hard question..especially the older I get. Many people compliment me on my eyes, others my smile or thick hair. Because my roots are gray ( get my hair colored tomorrow), today I will say my eyes, which are blue with long lashes!
I have been toying with the idea of letting my hair go gray since meeting a beautiful woman with short, silver colored hair. My Grandmother's hair was silver and was wondering if mine would be too!