This is one of my Favorite Hops hosted by Java @
Never Growing Old.
SUNDAY, DECEMBER 19, 2010
Welcome to the 27th edition of
"Meet Me On Monday!"
Blogging is a funny thing...we tell our most intimate thoughts for all to read and yet most of the time I find myself sitting and wondering, "who is this person!?" I know them...but yet I
don't
know them! I want to know who the person is behind all those words so I thought of a great way for all of us to "meet" each other!
Every Sunday I will post five
get to know you
questions that you can copy and paste into your own Monday post and we can all learn a little more about each and every one of us!!
"Its a great way to to meet new friends and for others to get to know me better....one Monday at a time!!!"
....as quoted by
the Chacogirl!!
I will make this SIMPLE and FUN!!!
I will add a linky so we can follow who participates and get to know them better!! Be sure to link the POST and not just your whole blog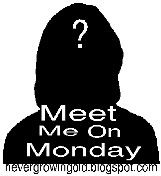 Questions:

1. What will your Christmas dinner consist of?
2. Do you watch commercials or flip through the channels?
3. How long will you leave your Christmas decorations up?
4. What movie makes you cry every time you watch it?
5. Do you have a Facebook?
MY Answers:
1. This year my very clever daughter, Erin, is hosting our Christmas Eve dinner. She e mailed all of us a few weeks ago and announced that we will be having an International Dinner, then assigned each couple a country.
Our ( Me and Hubby) Country is Germany and I will be making; Sauerbraten, Red Cabbage and Apples and German Apple Cake.
The other countries are:
Italy
Greece
Spain
South Africa
Thailand
On Christmas Day, the kids go to their in-laws and we will host a dinner for our friends who are in the same empty-nest boat! I will be making spaghetti and meatballs because I wanted something easy with little fuss in the kitchen!
2. I watch, rather tune out, commercials. Hubby puts the remote on
Mute,
which for some reason just drives me crazy! The only commercials he likes are the ones for Geiko..(especially the little Gecko) and the Baby for E trade!
3.
I leave my Christmas decorations up until after January 1st. I was taught that taking the tree down before New Years would lead to a year of BAD LUCK. Although I do not buy into that, I do not tempt fate and also eat Black eyed peas on New Years Day. Actually, I have
been tempted to leave the tree up year round and just decorate it for all the holidays! U would love a tree with red lights and hearts, then one with eggs and Easter bunnies..how about one decorated for the 4th of July..hmmm..I think it could work!
4. The Titanic...does it every time!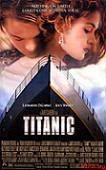 Titanic Graphics & Titanic Movie Pictures
5. Yes, I have a Facebook!
I used to be on it all the time and it was, and is, a great way to keep up with all of my children and the older grand Kiddos's! Before Blogging it was my drug of choice! I was a FB addict..now I am a blogging addict!