This is one of my favorite hops hosted by Java @
Never Growing Old
, I have included her instructions.
Blogging is a funny thing...we tell our most intimate thoughts for all to read and yet most of the time I find myself sitting and wondering, "who is this person!?" I know them...but yet I
don't
know them! I want to know who the person is behind all those words so I thought of a great way for all of us to "meet" each other!
Every Sunday I will post five
get to know you
questions that you can copy and paste into your own Monday post and we can all learn a little more about each and every one of us!!
"Its a great way to to meet new friends and for others to get to know me better....one Monday at a time!!!"
....as quoted by
the Chacogirl!!
I will make this SIMPLE and FUN!!!
I will add a linky so we can follow who participates and get to know them better!! Be sure to link the POST and not just your whole blog!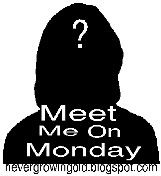 Questions:

1. What is your favorite way to eat chicken?
2. Have you decorated for Christmas yet?
3. What is your favorite article of clothing?
4. Do you pay your bills online or write checks the old way?
5. Do you make Christmas cookies?

My Answers:
1. My favorite way to eat chicken is FRIED because it reminds me of my childhood. My mother made fried chicken every Sunday for dinner, but because Hubby worked in a chicken processing plant when he was 18, we seldom have chicken and rarely fried!
Oh so Yummy!
2. We have not decorated the Christmas tree because we have been having issues with lights. At the end of the season last year, several stands of lights were not working. Earlier this week I posted about Hubby patiently replacing the bulbs on almost the entire tree. Friday night when he brought the tree to our Condo the lights were bright and it looked so festive. We were going to decorate after Church today but......
On Saturday most of the lights had gone out again. When we got home from Church, Hubby again replaced the bulbs....and two hours later it looks like this.
Poor tree : ((
I think we will forgo decorating this tree and just decorate the Condo. Next weekend we will decorate our home up North which is where we will spend part of the Christmas Holiday!
3. One of my favorite articles of clothing is a long, black coat that I wear every New Years Eve. I wish I could take a picture but the coat is up in Loveland at our other home but I will try to describe it. I bought this coat at a dance convention and it is made of a material that looks like velvet, has furred cuffs and collar, and has only one button which is at the neckline. This coat is fantastic, it can be rolled in a ball, put in a suitcase and never wrinkles. Also, the best part, just throw it in the washer and dryer and it looks brand new after 8 years! I get so many compliments on it and the cost was just $50.
4. I pay my bills on line..and when I have to write a check..I seldom have a stamp to send it!!
What did we do before computers?
5. Next Sunday will be our Annual Cookie Day. We have been doing this since my oldest Granddaughter was a baby and she will soon be 14. My daughters, daughter-in-law, myself and all the grand kiddos will meet early in the morning and make mounds of cookies. We have a great day baking, laughing, talking, making a huge mess and having the times of our lives. For us, this is the start of our Holiday!
My Girls... minus two that are out of town!
The day is a Love fest.
Some of the Cousins.
There are twelve of us and the kids are finally at an age where they enjoy baking and last year they stuck with it for a couple hours before they got bored and went out to play. You can see the one little guy already at the TV!
This year the kids have decided to split into boys vs. girls for a cookie bake off! I just hope Nana does not have to pick the winner because when I pick, everyone is a Winner!
I hope everyone has a great week,
Shawn