I am linking up with Java:
Java
will add a linky so we can follow who participates and get to know them better!! Be sure to link the POST and not just your whole blog!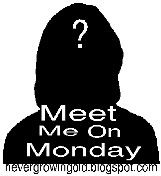 Questions:
1. Did you get any Valentine's Gifts?
2. What is your favorite topping on something toasted?
3. Do you pick out your outfit the night before?
4. What food item do you absolutely despise?
5. Righty or lefty?
My Answers.
1. Since I am writing this on Sunday, and Valentines Day is tomorrow; No, I have not received a Valentine gift..but I know it is coming! We did give out Valentines gifts to the Grand kiddo's today!
2. I like peanut butter on Toast!
3. Yes, I always pick out my outfit the night before. I have to be at work before 6am so I want the least amount of stress in the morning. Luckily, I wear uniforms to work.
4. I can not think of any food item that I despise. I like almost everything...but the one thing that I seldom eat is:FAST FOOD
5. Righty, definitely! I am so right hand dominant that there is not much I do with the left.