I am linking up with Java @
Never Growing Old
.
Java
will add a linky so we can follow who participates and get to know them better!! Be sure to link the POST and not just your whole blog!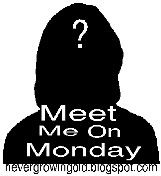 Questions:
1. What do you put on your hot dog?
2. Do you play Sudoku?
3. What is your favorite vegetable?
4. Do you color your hair?
5. What is your favorite brand of clothing?
MY Answers:
1. I am a burger girl but when I eat a hot dog, I want it with the works. I like mustard, coleslaw (or sauerkraut), pickles, onion, hot peppers...Yum!
2. No, I do not play Sudoku. I bought a book about a year ago and it is still sitting beside my desk.
Looks like a challenge!
3. My favorite vegetable would be fresh sweet corn. Loveland has an annual Corn Roast Festival in August. The corn is fantastic, there is music, a talent show, corn shucking and eating contests, vendors and rides for the kids. The festival has a wonderful small town feel and it is one of my favorite times of the year.
Picture copied from the Loveland Chamber of Commerce site. www.loveland.org
4. I have been coloring my hair for so many years that I hardly remember the original color. Luckily my daughter, Tiffany, is a hair stylist. I pay her but probably not as much as she normally charges for a color and cut. Recently, my gray roots have been showing up much sooner then I would like and I have toyed with the idea of getting my hair cut real short and letting it go gray.
I wonder if I will look like The Old Gray Mare?
At least she is smiling!
5. My favorite brand of clothing is J. Jill but I am really not picky. Give me a pair of jeans, a shirt from Target, and I am just as happy.