I can not believe it is time for
Java's
Meet Me On Monday Blog Hop! Come along and link up to this fun meme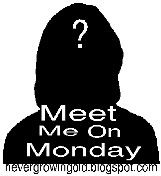 Questions:
1. Do you like your ice cream in a dish, waffle cone, pretzel cone, sugar cone or cake cone?I like Ice cream, it does not matter how it is served! Since this is a question..If I have to choose..it would be a sugar cone.
2. Do you read the newspaper daily?
No, I do not read the newspaper everyday. In fact, here is the sad thing, I pay for the paper to be delivered daily, then I take it to work and everyone reads it but me!
3. Marinara or meat sauce?
Meat sauce, no question on this one. Hubby will not eat pasta without some kind of
meat sauce, and that is the way my mother always made it.
4. Last time you cried?
I can not remember the last time I cried..really cried. Today I was very upset ( my heart was in my throat) after reading Erin's, my daughter, finish time in the Phoenix Rock N Roll Marathon. Erin completed the Canada ironMan competition in August then continued her training to try to qualify for the Boston Marathon. Today she was in Phoenix to run a qualifying time. After reading her time I thought she had not qualified and my heart was broken knowing how hard she had trained. She had some hip problems this week and I was worried that this would hold her back. When she called I told her how proud I was and asked her how she felt....she sounded so up beat...SHE DID QUALIFY!!! Since Boston is full for 2011...we will all be going in 2012!
Erin with her daughter, Emma, and son, Jonah, at Emma's dance recital
5. What word/phrase do you find really annoying?
The phrase that makes my hair curl every time I hear it is:
You know what I'am saying
When someone says this after a sentence, it is like finger nails on a chalk board!
I will be also linking to: