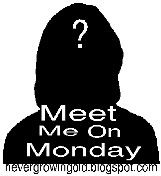 SUNDAY, OCTOBER 31, 2010
Welcome to the 20th edition of
"Meet Me On Monday!"
Blogging is a funny thing...we tell our most intimate thoughts for all to read and yet most of the time I find myself sitting and wondering, "who is this person!?" I know them...but yet I
don't
know them! I want to know who the person is behind all those words so I thought of a great way for all of us to "meet" each other!
Every Sunday I will post five
get to know you
questions that you can copy and paste into your own Monday post and we can all learn a little more about each and every one of us!!
"Its a great way to to meet new friends and for others to get to know me better....one Monday at a time!!!"
....as quoted by
the Chacogirl!!
I will make this SIMPLE and FUN!!!
I will add a linky so we can follow who participates and get to know them better!! Be sure to link the POST and not just your whole blog!
Questions:
1. Have you ever been on a cruise?
2. What is your favorite way to eat eggs?
3. What is your favorite reading material?
4. Name all the pets that you have ever had?
5. Were you ever a girl/boy scout?
My Answers:
1. I have never been on a cruise but we are planning a family Christmas cruise when our youngest Grandchildren are a little older. Because I can not swim, they better have one of these in my size!
2. I like eggs fried, scrambled, omelet, hard boiled, soft boiled, lets just say I like eggs!
3. My favorite reading material is any fiction novel. I am now reading
Cure
by Robin Cook and waiting is
A Dog's Purpose
by Bruce Cameron.
4. All the Pet's I have had: Cookie, first dog,
Peanuts- Toy poodle
Bandit- farm dog
Darcy-Beagle
Raven- Standard Poodle
Bubba- Wire haired German Griffon
Tasha- Choc. lab
Lady- Tennessee Walker (horse)
Chloe-Burmese cat
Cecil-Burmese
Chloe and Cecil on the dryer, their favorite warm place!
At one time we had nine horses but they were the kids so I will not list all their names..long time ago!
5. I have been a Brownie, a Girl Scout and a Den Mother
By next week, I will find out where you all get the cute pictures and I will add them in!!!!
I just found my Clip Art!