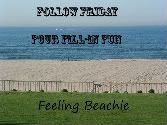 I am going to Link Up with Feeling Beachie for the 4 question hop...boy has it been a long time for me.



I will add her directions,
Each week, I plan on listing four statements with a blank for you to fill in on your own blogs. If you want to join the fun and come up with four fill in's of your own, please email them to me at feelingbeachie@gmail.com. If I use them, I will add you as co-host to the hop! This week's co-host is Sarah from the Mama Pirate. She submitted the last two statements!
I would LOVE it if you could please help me spread the word about this hop…. So, please tweet, FaceBook share, and add the linky to your post…
This week's statements:
1. ___is my least favorite household chore
2. ___ is my guilty pleasure
3. In the __________, I think ___________.
4. My favorite ___________for _________ is _____________.
My Answers:
1. My least favorite household chore is cleaning the bathroom! The tub drives me crazy!
2. Ice Cream is my guilty pleasure. In the summer, I do not mind popsicles but prefer ice cream!
3. In the morning, I think...I wish the dang cats would go back to sleep!!
They start their morning meow about 4:15 am!!!
My 'lil darlings
4. My favorite topping for ice cream is carmel! Geeessh, must have something on my mind!
YUMMY!
I hope everyone has a great weekend!