Monday already..time for a new week and a day of blog hopping making new friends.
First I will link up with Java @
Never Growing Old
Java will add a linky so we can follow who participates and get to know them better!! Be sure to link the POST and not just your whole blog.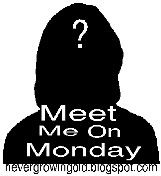 Questions:
1. What is your favorite way to eat potatoes?
My favorite way to eat potatoes is any way they can be fixed! I absolutely love potatoes boiled, fried, mashed, baked, au gratin, scalloped, oven fried, creamed...did I say..I LOVE potatoes!
2. What was the last package that was delivered to your house?
The last package that was delivered to my house was a T-shirt sent to me from the Magical Mouse Schoolhouse for being a new follower to her blog!
3. What is your favorite scent that you love to smell?
I have so many favorite scents. The smell of rain during a spring storm, a puppies breath, a child just out of the bathtub, my herb garden, fresh laundry, pine trees, a beef roast cooking in the oven, fresh bread...boy, I could go on and on!
One of my favorite scents for the house is Lavender! I have a beautiful lavender bush underneath one of the windows in the kitchen! The smell is amazing!
4. Do you smoke?
No, I do not smoke. I did try once. I was about fifteen and was out with my girlfriends. One of them had a pack of cigarettes ( probably BORROWED from her MOM) and we decided to smoke.
I tried for about 5 minutes,
but could not figure out how to hold the cigarette to look cool! First of all, I could not quit laughing, and I did not want to inhale so I threw down the cigarette and that was the end of my smoking career.
Besides, I am a nurse. I can not teach my patients the dangers of smoking if I am a smoker..that would be hypocritical!
5. Are your parents married or divorced?
My parents passed six years ago. They were married for 54 years when Dad died, then Mom followed seven months later.
I will be linking with: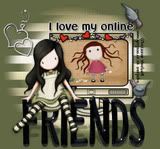 >

And,

Cecil and his yellow Ducky!