I will be linking up to;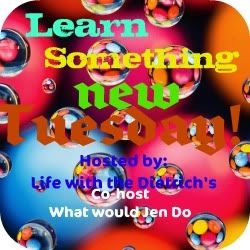 It's that time again!!
Learn Something New Tuesday
(If you are looking for grab-able buttons, check my sidebar for Learn something new)
Copy the 6 questions, answer them on your blog, then come back here or the
Co-hosts
blog and link up!
Hop from blog to blog and "Learn Something New" about new bloggers!
This weeks theme is PETS
1. Have any animals?
2. Favorite animal?
3. If you could have any animal, what would it be?
4. Pet any weird animals?
5. Ever been to a drive through safari?
6. What zoos have you been to, what is your favorite one?
1. I have two, very spoiled, cats. Chloe will be four on March 5th and Cecil will turn four in October.
Prince Cecil
Chloe, sunning herself in the Grandkids room!
2. My favorite animal is a toss up between a horse and a dog, but for this question I will pick the horse.
I have not owned horses since my kids were younger and the last horse I rode was my Dad's.
Dad owned a Paint, he named her Pinta.
3. Right now, if I could have a new pet it would be a dog.
Awwwww!
4. I lived on a farm and raised chickens, cows, calves, pigs and we had horses so i guess you could say i have petted all of them. But the strangest is not an animal but can be a pet.
Yep, held one in 6th grade science and a year ago at the Butterfly Pavilion!
5. No, I have never been to a drive through Safari.
6. I have been to the Phoenix Zoo, the Denver Zoo and the San Diego Zoo. I liked all of them but the one thing I can have at the Denver Zoo and not at the others is...my Grand Kiddo's!