This fun meme is hosted by Java at
Never Growing Old
.
Java
will add a linky so we can follow who participates and get to know them better!! Be sure to link the POST and not just your whole blog.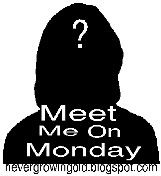 Questions:
1. What are you wearing right now?
2. Do you have any freckles?
3. What is your favorite Lifesaver flavor?
4. What is the last movie you saw in the theater?
5. Would you rather live without tv or without music?
My Answers.
1. Usually I am in sweats, but right now I am wearing jeans, a short sleeved blouse and socks. Although it is cold in my office, the frequent hot flashes keep me warm!
Of course, this is not me!
2. No, I do not have any freckles but I wish I did!
This little angel has freckles and she is very proud that she can touch her nose with her tongue!
3. My favorite Lifesaver flavor is LIME!
Lime lifesavers, Key lime pie, margarita's..it's all good!
4. The last movie I saw was The King's Speech. I really did not have any desire to see this movie but Hubby asked me out for a movie date and I let him pick what we would see. To be honest with you, this movie is now on my all time favorite list. From the moment it started, I was hooked. The story, the acting, the costumes, the era it was set in..I thoroughly enjoyed this movie.
5. I can not choose between Music and TV! Oh my goodness, I guess if I HAD to choose it would be MUSIC...can I still go out dancing or do I have to give it up all together. Java, this is a very hard question!
Television or...
I guess I would have to flip a coin to decide which one I would live without.