Here we go again! Link up with Java, @
Never Growing Old
, for her fun meme!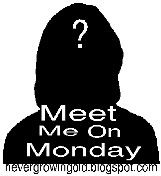 Questions:
1. What is your favorite kind of fudge?
2. Is there snow outside your window?
3. What is your favorite meal of the day?
4. Do you text on your cell phone?
5. Waffles or pancakes?
Answers:
1. Fudge is not my favorite, but if I have to pick, I would choose Dark Chocolate or Rocky Road.
This does look pretty good!
2. Yes, there is snow outside my window but it has started to melt.
Wednesday!
3. All meals are my favorite. I love to eat..it is one of my passions!
I love to BBQ
4. I do text on my cell phone but not too often. I made a draft on New Years Eve day, then at midnight sent a Happy New Years text to family and friends
5. Waffles. The only time we eat either one is when the grand kiddo's stay over night. They like me to make chocolate chip pancakes but if we are in a hurry we make waffles..which are my favorite!
I am also linking up with
The Adventures of Mommy B
: