One of my Favorite Hops hosted by Java@
Never Growing Old
Welcome to the 25th edition of
"Meet Me On Monday!"
Blogging is a funny thing...we tell our most intimate thoughts for all to read and yet most of the time I find myself sitting and wondering, "who is this person!?" I know them...but yet I
don't
know them! I want to know who the person is behind all those words so I thought of a great way for all of us to "meet" each other!
Every Sunday I will post five
get to know you
questions that you can copy and paste into your own Monday post and we can all learn a little more about each and every one of us!!
"Its a great way to to meet new friends and for others to get to know me better....one Monday at a time!!!"
....as quoted by
the Chacogirl!!
I will make this SIMPLE and FUN!!!
I will add a linky so we can follow who participates and get to know them better!! Be sure to link the POST and not just your whole blog!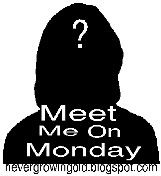 Questions:

1. What is your favorite kind of cheese?
2. What size is your bed?
3. What is your most overused phrase?
4. Green or purple grapes?
5. Shower, morning or night?
My Answers:
1. I can not think of a cheese that I do not like but my favorite would be Brie!
This is the way I like it, fruit, crackers and a meal it makes!
2. We have queen sized beds in both houses, I don't want Hubby getting too far away! Although, now that we have our Furry Children sleeping with us it would be nice to have a King!
Some of the Grand Kiddo's watching a movie!
3. I can not think of a phrase that I over use! The only thing I can think of is; when I teach patients at work... Over and Over....I tell them, "Always eat before you take narcotic pain medication and remember, it may cause constipation and do not drink alcohol while you are on the narcotics"!!!!!! I must have said this a Gazillion times in the last twenty years! Now, I am sure that is not what anyone wanted to hear but it is the only thing that came to mind!!! : D
4. I like both, but red grapes are my favorite because they seem to be a little sweeter than the green!
Yummy, crisp grapes!
5. On the days I work, I shower in the morning and at night! I need a shower in the morning to wake me up but I also need to shower after a hard day at work! Working in a surgical unit, a shower is a must when I return home!
I never know what is going to happen!
<>