From Java's Blog
Never Growing Old
: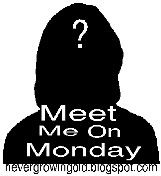 Blogging is a funny thing...we tell our most intimate thoughts for all to read and yet most of the time I find myself sitting and wondering, "who is this person!?" I know them...but yet I
don't
know them! I want to know who the person is behind all those words so I thought of a great way for all of us to "meet" each other!
Questions:

1. Do you eat Sushi?
2. What kind of bath soap do you use?
3. How often do you talk to your Mom?
4. What TV shows do you watch on a regular basis?
5. Did you start Christmas shopping yet?
My Answers:
1. Yes, I eat Sushi but not very often. To tell the truth, I can take it or leave it!
I like Shrimp and California Rolls!
2. I use any soap that is on sale but recently bought a large quantity of Irish Spring from Costco.
3. I talk to my Mom in prayers but she passed 5 years ago. Before she died, in a car accident, I talked to her at least 5 times a week.
Mardele, just two days before she died. Boy, what a good time we had!





4. I watch Biggest Loser and The Event.
I like this cute TV!
5. No, I have not started Christmas shopping. I know what we will be sending to out of state family but we are going to cut back on the shopping for Colorado peeps. We always do something special for the Colorado Grand Kiddo's. We have a separate boys, and girls, day out and pick something special for them. Last year we took the boy's to the Harlem Globe Trotter's and we gave the girls a choice on what they wanted to do. Believe it or not, they only wanted to spend the night and have a baking fest. In years past the girls always wanted to go to the mall and paint pottery and get a manicure, so go figure, last year they just wanted to bake!
I have always wanted to have a Christmas From The heart, where the only present you could give would be a homemade one. Although my kids are crafty, I have not talked them into that!
What really starts the holidays for us is the annual Cookie Day. We have been doing this since the first Gand child was born!



Part of Santa's Cookie helpers.
Too much fun!!